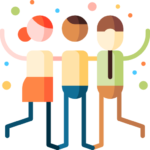 Thank you for purchasing
The Seven Tree Fan Base Growth Map!
It really means a lot that you have chosen to trust us to be your guide to becoming an influencer. Our goal is to ensure you get exactly the results you want so you can turn your marketing efforts into a branding machine, earn a living from your passion, and make the impact you are meant to have on the world!
(All additional purchase details will follow shortly in your email) 
If you're ready to dive in let's not waste anymore time…
Step 1. Join the Facebook Group so you can take advantage of the coaching & community as you progress through the program.
Step 2. View the program you've purchased by clicking here.
Step 3. Learn as much as you can at your own pace!
The goal of this program is to ensure you reach your goals and we're here to help you every step of the way. 
That being said there are a number of ways we can provide support.
a) If you have questions related to the program use the Facebook Group to communicate with the coaches.
b) If you're having technical difficulties you can use the Facebook Messaging pop up to talk directly with technical support.
c) If you have any other general inquiries feel free to email support anytime and we'll be happy to sort out whatever challenges you are facing.
Good luck and happy growing!